Best Restaurant & Meal Delivery Gift Cards - Gift the Perfect Dining Experience
In a fast-paced world where time is a precious commodity, meal delivery services have become a lifeline for many. They offer convenience, variety, and delicious meals right at your doorstep. The convenience of meal delivery services has skyrocketed in recent years, and this trend has been further accelerated by the global pandemic, where dining out has become a less viable option. As a result, meal delivery gift cards have emerged as thoughtful and practical gifts for various occasions. In this article, we will explore the world of meal delivery gift cards, why they make great gifts, and some of the best options available. Whether you're considering giving one or receiving one, this guide will help you navigate the delightful world of food gifting.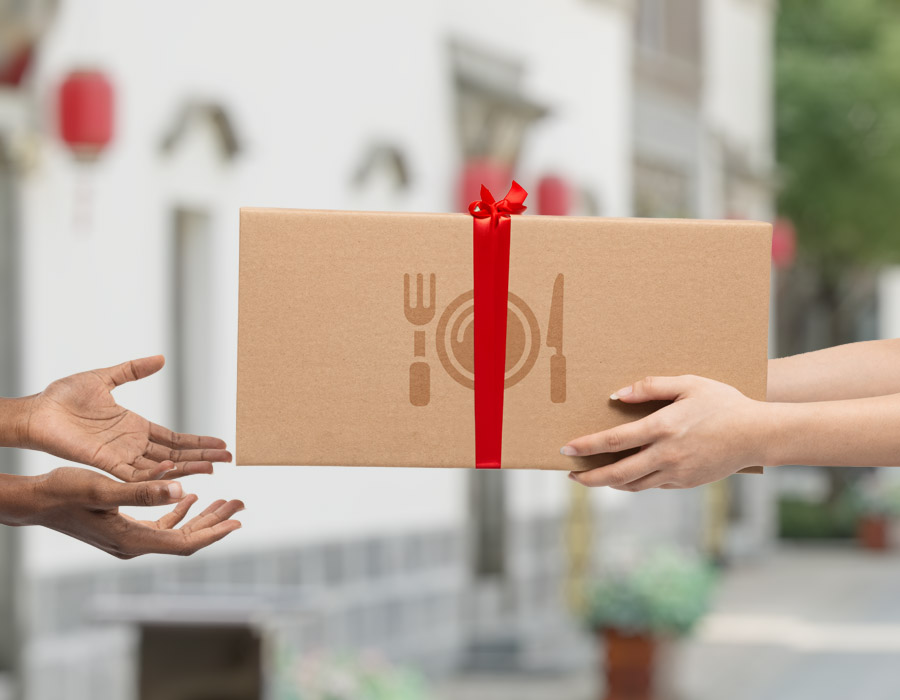 The Rise of Meal Delivery Services
The surge in meal delivery services in the USA has sparked a culinary revolution, drastically improving the way we dine. Traditionally, ordering takeout or delivery often meant limited choices, inconsistent quality, and unhealthy options.
The COVID-19 pandemic further accelerated this trend, as it restricted dine-in options and heightened the demand for contactless dining experiences. This shift led to a proliferation of meal delivery options, making it exceptionally convenient to order a diverse array of cuisines from local eateries, national chains, and even exclusive restaurants. In the USA, meal delivery services have undeniably revolutionized the dining experience.
For those seeking an exceptional meal delivery experience near Chicago, 10Feast stands out as a top choice. You can explore our delicious offerings and conveniently place your order on our website . With a focus on providing outstanding culinary experiences, 10Feast ensures that you can savor a wide variety of delectable dishes without compromising on quality or taste.
The Power of Meal Gift Cards
Gift-giving is an age-old tradition that holds great significance in American culture, uniting people from all walks of life across generations. It serves as a heartfelt means of conveying love, gratitude, and affection. The act of giving brings immense satisfaction to both the giver and the recipient, and when the gift is chosen with care, it underscores the thoughtfulness and consideration put into the gesture, making the person receiving the gift feel cherished and appreciated.
The true essence of gift-giving in the USA lies in making the recipient's life more enjoyable and meaningful. And what better way to accomplish this than by presenting the gift of delightful meals? Food possesses a remarkable ability to connect people, forge lasting memories, and elicit profound emotions. It serves as a universal language, comprehensible and cherished by all. In this context, the 10feast meal delivery service gift cards offer an unparalleled experience.
These gift cards extend the convenience of choice and the joy of savoring delectable meals without the hassle of cooking or dining out. 10feast stands out among the crowd for its exceptional service and dedication to creating a dining experience like no other. With a 10feast meal delivery service gift card, you're not just giving a meal; you're bestowing a culinary adventure. It's a ticket to a world of flavors and gastronomic delights, all at the recipient's fingertips.
Whether you're celebrating a special occasion, expressing appreciation, or simply showing you care, 10feast meal delivery service gift cards make the perfect choice. They embody the spirit of gift-giving , where the joy of sharing good food with loved ones is a cherished tradition. So, consider the 10feast meal delivery service gift cards for your next gifting occasion, and bring the pleasure of exceptional dining into someone's life.
Why Meal Delivery Gift Cards Make Great Gifts?
Meal delivery gift cards make great gifts for several reasons, and their popularity has been on the rise in recent years. Here are some of the key reasons why meal delivery gift cards are appreciated as gifts:
The most obvious reason meal delivery gift cards make great gifts is the unparalleled convenience they offer. We live in a busy world where time is a precious commodity. With a meal delivery gift card, the recipient can skip the cooking or waiting in long restaurant queues and enjoy a meal of their choice in the comfort of their own home.
Meal delivery services provide access to a wide range of cuisines, from local favorites to international delights. The recipient can explore different flavors, try new dishes, and discover their favorite restaurants without leaving their home. This variety ensures that the gift card is suitable for everyone, regardless of their dietary preferences.
Gift cards for lunch and dinner provide flexibility for the recipient to use them when it's most convenient for them. Whether they want a quick lunch during a busy workday, a special dinner on the weekend, or a late-night snack, meal delivery services are available at their convenience.
Meal delivery gift cards can be personalized to suit the recipient's tastes. You can choose a card from their favorite restaurant or a service known for a specific type of cuisine, making the gift more thoughtful and tailored to their preferences.
In the era of social distancing and health concerns, meal delivery gift cards are an ideal way to send your love and care to someone without physical contact. It's a safe and practical choice for gifting during uncertain times.
6. Perfect for All Occasions
Meal delivery gift cards are versatile gifts suitable for various occasions, such as birthdays, anniversaries, holidays, housewarmings, and even as a gesture of sympathy or support during difficult times.
when it comes to meal delivery gift cards, 10Feast Meal Delivery Service stands out as a superb choice. It not only offers all the conveniences, variety, and flexibility that meal delivery gift cards are known for but also elevates the dining experience to a whole new level. So, if you're looking to give a gift that truly delights the senses, consider 10Feast meal delivery gift cards for any occasion.
Best Restaurant Gift Cards In Chicago
Looking for the perfect gift for food lovers? Restaurant gift cards make for excellent presents. To help you choose, here are some of the best restaurant gift cards, each with its own unique benefits.
10Feast is an upscale steakhouse known for its delectable cuts of beef and elegant ambiance. Their gift cards provide the perfect opportunity for your loved ones to savor the finest steaks and wine, all while enjoying impeccable service in a sophisticated setting.
Click here if you'd like to acquire 10Feast gift cards for the best meal delivery experiences.
Suparossa offers a taste of authentic Italian cuisine, with a menu filled with classic pasta dishes, wood-fired pizzas, and delicious desserts. Gift cards for Suparossa allow recipients to experience the warmth of Italian hospitality and the flavors of Italy right in the heart of Chicago.
To explore and buy gift cards for the finest culinary delights, click here.
CefaluSeaside takes you on a culinary journey to the Sicilian coast. With its fresh seafood and Mediterranean-inspired dishes, their gift cards are a passport to a coastal dining experience. Delight in the flavors of the sea in a charming, rustic setting.
Looking to buy gift certificates for the ultimate food experiences? Click here.
LegnoChicago is a trendy, modern restaurant with a focus on contemporary American cuisine. Their gift cards open the door to a diverse menu of locally sourced, seasonally inspired dishes, and craft cocktails, making it a perfect choice for those with diverse tastes.
Click here to access Legnochicago gift cards for exquisite dining options
For the sports enthusiast, Real Time Sports Bar offers the ultimate gift card experience. This sports bar boasts numerous screens showing live sports events, an extensive selection of craft beers, and a menu filled with classic bar food. It's the ideal destination for game day celebrations.
Gift the ultimate experience: Treat your loved ones to live sports, savory food, and tasty drinks with our gift cards. Click here to make your purchase!
6. Local Restaurant Gift Cards
Supporting local businesses has never been more important. Many local restaurants offer gift cards that can be used for dine-in or takeout, making them a fantastic way to support your community and delight someone with a taste of their favorite local flavors.
Consider subscription-based meal delivery services which offer meal plans that cater to specific dietary needs. Their gift cards can provide a week's worth of meals, offering a convenient and healthy dining experience.
For a more sophisticated touch, look for gift cards that combine wine and dine experiences. Many wineries or wine clubs offer gift cards that can be paired with gourmet meal delivery services, creating a delightful combination for food and wine enthusiasts.
When you give the gift of a good restaurant gift card deal in Chicago, you're not just offering a meal; you're sharing an experience. Whether it's a night of fine dining, a taste of Italy, a seaside escape, contemporary American flavors, or a sports-filled extravaganza, these restaurants provide memorable moments that your loved ones will cherish.
Tips for Giving Meal Delivery Gift Cards
When giving meal delivery gift cards, it's important to consider the recipient's tastes and dietary preferences. Thoughtful choices can make these gifts truly special. Here are some tips to ensure your meal delivery gift card is well-received and appreciated.
1. Consider the Recipient's Taste
Try to select a gift card that matches the recipient's taste and preferences. Whether they love Italian, Asian, or vegan cuisine, choosing a card from a restaurant or service that aligns with their culinary preferences adds a personal touch.
2. Include a Personal Note
Don't forget to include a heartfelt note with the gift card. Express your well-wishes, share why you chose this gift, or offer a fun message to make the gift more meaningful.
If you want to make the gift more special, consider pairing the gift card with a small complementary item. For example, you can include a bottle of wine, a set of gourmet chocolates, or a personalized kitchen gadget.
4. Check Expiry Dates and Terms
 Make sure to check the expiry dates and any terms and conditions associated with the gift card. Some cards may have limited redemption periods or specific usage restrictions.
 If you're unsure of the recipient's preferences, consider giving multiple gift cards with smaller denominations. This way, they can explore a variety of options.
6. Support Local Businesses
Encourage support for local restaurants by choosing gift cards from neighborhood eateries. It's a way to promote community and provide a unique dining experience.
Receiving Meal Gift Cards
If you're on the receiving end of a meal delivery gift card, consider yourself lucky. Here are some tips on how to make the most of your culinary gift:
Explore New Cuisines: Use the gift card as an opportunity to explore new cuisines or dishes you wouldn't typically order. It's a chance to expand your culinary horizons.
Plan Special Occasions: Save your gift card for special occasions, whether it's a birthday, anniversary, or a lazy weekend when you want to treat yourself to a gourmet meal.
Order with Loved Ones: Enjoy the experience with friends or family. Meal delivery services make it easy to order for a group, so you can share the joy of good food with loved ones.
Support Local: If you receive a gift card for a local restaurant, consider it a chance to support neighborhood businesses and savor flavors unique to your area.
Use It Wisely: Ensure you use the gift card wisely. Check the expiry date, terms and conditions, and make the most of its value.
Meal delivery gift cards have gained popularity for good reason. They offer the gift of food in a way that's convenient, versatile, and meaningful. Whether you're giving one as a gift or receiving one, meal delivery gift cards can bring joy to the table and add a delicious twist to any occasion.
In the vibrant culinary landscape of Chicago, meal delivery gift cards have become the perfect way to savor the city's diverse flavors. Among the top choices, 10Feast, LegnoChicago, Suparossa, Real Time Sports Bar, and CefaluSeaside consistently stand out as the best options for lunch and dinner. These renowned establishments not only offer an array of delectable dishes but also provide an exceptional dining experience for those who appreciate quality and variety. Whether you're seeking a casual evening or an elegant lunch, these gift cards ensure that your loved ones can indulge in the rich gastronomic tapestry that Chicago has to offer, making for a thoughtful and unforgettable gift.
So, the next time you're looking for the perfect gift, consider giving the gift of food, and watch as your gesture of kindness and thoughtfulness brings smiles and satisfaction to those you care about. In a world that constantly seeks convenience and flavor, meal delivery gift cards are the way to go.